ENABLES MAINFRAME-INCLUSIVE OBSERVABILITY AND MONITORING
z/IRIS provides mainframe support for proprietary and open-source APM products. z/IRIS mainframe traces and events are created and correlated by z/IRIS in APM user-interfaces. z/IRIS z/OS metrics are streamed to data sinks that feed into in-house visualization and analysis software for monitoring.
Recognizing the power of industry leading open-source solutions, z/IRIS provides cutting-edge integration capabilities, ensuring your mainframe-backed DevOps have mainframe support in tools they are familiar with.
z/IRIS supports OpenTelemetry, which is a widely accepted and adopted open standard observability framework. Using OpenTelemetry Protocol(OTLP) specification, z/IRIS can offer vendor-neutral mainframe observability support to customers who use compatible APM products.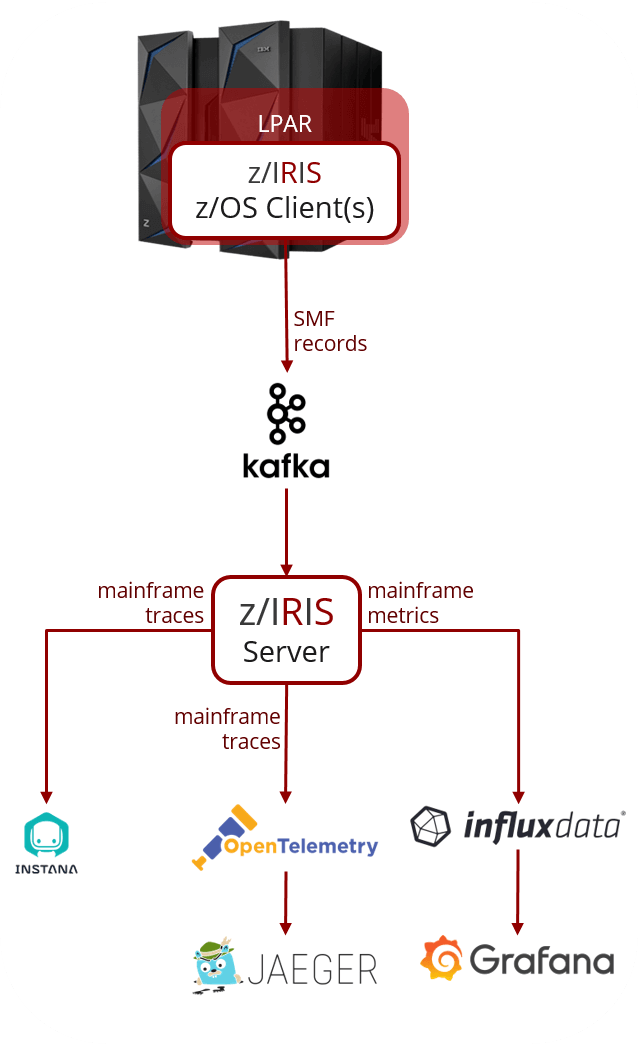 WHAT IS MAINFRAME-INCLUSIVE APM?
Does your APM software support mainframe technology? Do your DevOps teams need more mainframe-related observability? z/IRIS extends the capabilities of your existing APM software by providing back-end support for mainframe-related APM features. Our software enriches user-interfaces with mainframe traces and events to improve Root-Cause Analysis(RCA).
Distributed Db2 for z/OS Observability
Identify which applications are involved in deadlocks and which applications are blocking database resources, monitor mainframe CPU usage for JDBC requests, gain insights into ineffective SQL requests and more.
z/OS Connect Observability
Identify latency between z/OS Connect servers and System-of-Record systems (service providers), monitor payloads and HTTP responses and authorization tracking.
z/OS Metric Streaming
Integrate z/IRIS z/OS Metrics into visualization and analysis software for mainframe-inclusive infrastructure and application performance monitoring. z/IRIS Metric streaming support Infux Data's InfluxDB time series database but can be easily adapted to meet customer requirements.
z/OS Work Observability
Monitor z/OS batch jobs, address spaces TSO user activity and Unix System Service processes in a compatible APM product of your choice.
zIIP compatible
z/IRIS z/OS clients can run on zIIP processors, saving our customers the running MSU costs, while they benefit from our cutting-edge mainframe-inclusive APM capabilities.
integrable
z/IRIS is a plug-in solution that integrates with open-source and proprietary APM products to provide mainframe monitoring capabilities to their end-users.
APACHE KAFKA INTEGRATION
z/IRIS utilizes an in-house Apache Kafka cluster to stream SMF data. Custom retention periods provide additional flexibility for storing raw SMF data that can be used by 3rd party tools.
OPENTELEMETRY SUPPORT
This observability framework has broad industry support and adoption. z/IRIS uses OTLP to send mainframe traces to compatible open-source and proprietary APM products.