z/IRIS extends your APM to z/OS
Mainframe investors everywhere struggle to find application performance monitoring (APM) solutions that meet the needs of both sides of the data centre (i.e. mainframe vs distributed and open systems) and are left  with a small pool of end-to-end solutions, of which a smaller fraction are able to compete with the cutting edge, open system APM solutions available today. mainstorconcept has begun to address this limitation with our latest product called System Z Integratable Real-time Information Streaming or z/IRIS for short.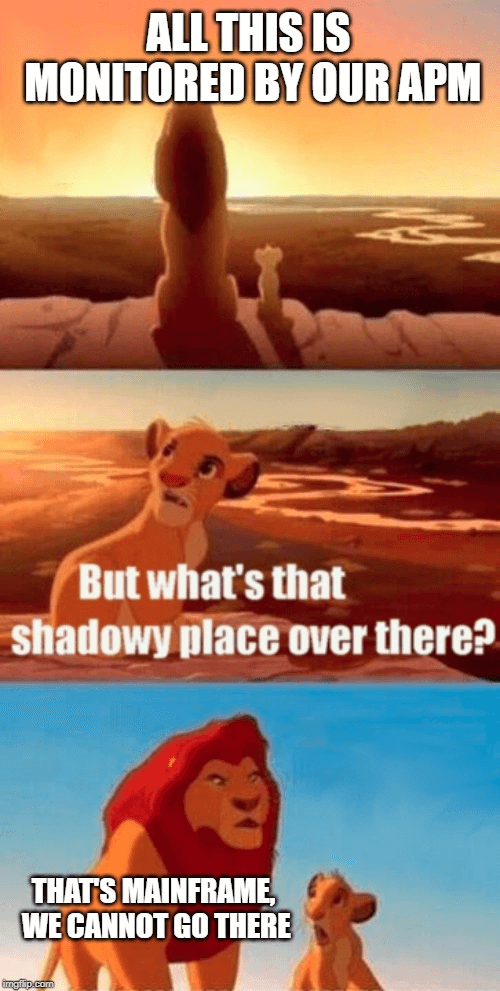 One plug-in, many options
z/IRIS is plug-in software solution, built to provide the possibility of mainframe-inclusive performance monitoring for the non-mainframe world. Partnered with Instana, z/IRIS has proven the concept of low-impact real-time mainframe monitoring, integrated into a high-end APM solution, combining open system AI backed automated APM expertise with that of mainstorconcept's mainframe know-how, to meet the needs of the modern mainframe customer, seeking to take the next steps towards employing and managing enterprise wide CI/CD.
Benefits from z/IRIS?
The demand to modernise mainframe application architecture is growing rapidly, not only to reduce time to market (TTM), but also to ensure mainframe becomes and remains attractive for the new technology generation. z/IRIS assists by giving z/OS an opportunity to participate in innovative solutions being created today and those that will come tomorrow. No longer will mainframe invested organisations need to compromise on their APM decision, this is mainstorconcept's goal for the mainframe community across the globe. z/IRIS steps in for APM solutions who do not have mainframe skills or infrastructure to build a z/OS Agent of their own. We provide additional support in showing z/OS performance data in context, alongside the distributed client call who requested the work from mainframe i.e. correlation. All z/OS application performance data is translated and formatted into open system ready formats and are transported to the APM via its  available API's or SDKs. We work intimately with the APM providers to ensure the integration from z/OS is used to its maximum potential within their product as well as ensuring the customers benefits in every possible way.
Let's talk
Mainstorconcept is ready to discuss your APM requirements for mainframe. Whether you are a customer or a provider, we are here to help you get end-to-end.
Who is Instana?
Instana's product vision: Auto Discover Everything, Realtime Data, No Configuration, No Impact on Applications, Prediction of Incidents and Exact Understanding, requires us to innovate every aspect of our solution. Every layer of our product; our Agent technology, our APM tracing technology, our compression technology, our streaming technology, our data storage technology, our knowledge learning & persistence technology, and finally our GUI technology is leveraging state of the art techniques and frameworks. If you would like to find out more about Instana, visit instana.com,or contact mainstroconcept to arrange a demo with Instana at your earliest convenience.