z/IRIS Release 1.8.0 is now available
The team is proud to reveal the latest z/IRIS feature: z/OS MQ Metrics Streaming, which is supplemented by new importable z/OS MQ Dashboards in Grafana and Datadog.
z/OS MQ Metrics indicate the occurrence of critical resource constraints, provide an overview of resource utilization, and enable workload monitoring and analysis.
z/OS MQ Metrics Streaming
z/IRIS is now capable of transforming SMF type 115 records into APM metrics, that are streamed to a pre-configured InfluxDB® time series database.
z/OS MQ Metrics is composed of the following:
Log Manager metrics:
for monitoring log reads, writes, compression and checkpoint activity.
Storage Manager event metrics:
for monitoring occurrences of critical storage shortages.
Channel Initiator metrics:
for monitoring the usage of current and active channels.
Buffer Pool Manager metrics:
for monitoring buffer usage and I/O activity that may signify impact to MQ performance.
Data Manager metrics:
for monitoring MQ object request activity.
Message Manager metrics:
for monitoring MQ API requests activity.
These metrics were identified as the key performance indicators for any MQ installation on System Z, providing monitoring capabilities for small to large MQ installations.
Upcoming releases will provide additional support for the following metrics:
Db2 Manager metrics
Shared Managed Data Sets metrics
Coupling Facility metrics
Topic Manager metrics
To accelerate the usability of our z/OS MQ Metrics in user environments, the team designed importable dashboards that summarize and visualize these metrics and provide practical examples of ways to monitor MQ performance on z/OS.
Datadog integration
Users gain access to 6 new importable dashboards that query z/OS MQ Metrics exported to Datadog. Users can dynamically change dashboards to provide statistics for all z/OS-based queue managers or select specific queue managers for monitoring.
We also provide importable Monitors that alert on critical events triggered by various z/OS Metrics. Users can customize these monitors to send notifications to relevant SMEs and teams.
Grafana integration
Users get access to a new importable z/OS MQ Dashboard that queries z/OS MQ metrics stored in an InfluxDB data source.
The dashboard is spearheaded with a summary of critical events that are significant to optimal MQ performance.
Thereafter, more in-depth visualizations of z/OS MQ components provides additional context as well as an overview of relevant resource activity.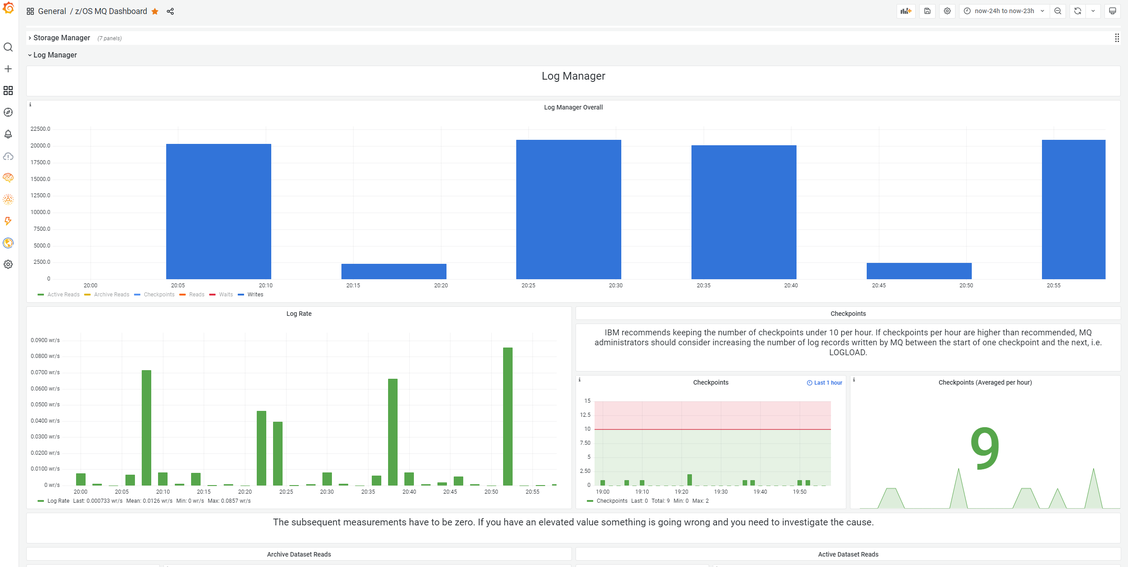 Alerting in Grafana
While building the z/OS MQ dashboard in Grafana, the team encountered various pitfalls while configuring alerts for MQ performance. To help our users gain value from z/IRIS dashboards faster, the team shares their recommendations on how to configure alerts for z/IRIS MQ dashboards using legacy or v8.0 Grafana Alerts.