MANAGE YOUR MAINFRAME
DATA IN THE CLOUD
USE YOUR ENTERPRISE CLOUD STORAGE TO BACKUP AND RESTORE

MAINFRAME DATA
ON-PREMISE, HYBRID & PUBLIC


ENABLE CLOUD APPLICATION ACCESS TO MAINFRAME DATA.
ENABLE AGILE RESILIENCE
Recover from a disaster with confidence in any location using air-gapped backups from a clean room environment that was completely isolated from production vulnerabilities. You can also easily restore selected data into your production environment and resolve business disruptions quicker.
REDUCE VENDOR LOCK-IN
Reduce legacy software and consolidate tape management license into a single sophisticated solution. All industry-leading cloud provider are supported including IBM Cloud, Hitachi HCP, Dell ECS, Azure, AWS, Google and more.
ACHIEVE RESTORE OBJECTIVES
Accelerate restore response times and achieve lower Recovery Time Objectives (RTO) through sophisticated software.
Model9 will use mainframe resources effectively to accelerate your backup and recovery times by up to 4 times.
INCREASE BUSINESS SECURITY
Use pervasive immutable (WORM) storage to ensure all backups remain protected from attacks. Industry leading cloud-storage vendors provide virus scanning and detection to identify compromised backups and existing threats that prevent a system wide disaster that would otherwise go undetected.
MODEL9 CLOUD DATA MANAGEMENT
The Model9 Cloud Data Platform is an operating environment which includes a full set of core data management functions that are common to the cloud data management for mainframe suite of products.
MODEL9 MANAGER
Provide cloud native mainframe backup, recovery and data management.
Model9 Manager provides backup, archive, space management, disaster recovery and storage management capabilities, all delivered directly from the mainframe to the cloud, thus eliminating the need for inconvenient tape libraries and their complex management software. Data transfer is efficient, and using cloud storage provides advantages such as flexibility, reliability and data sharing, among many others. One of Model9 Manager's key features is based on patented technology that intercepts read/write data on tape or VTL and redirects it to object storage without requiring changes to applications or JCLs.
MODEL9 GRAVITY
Make your mainframe data actionable by connecting it with cloud AI/ML & analytics.
Model9 Gravity delivers mainframe data to a cloud-based data lake. The data is transformed in the cloud to any
open format without utilizing expensive mainframe compute cycles. In the cloud, the process does not compete on CPU resources with other processes, so transformation is much faster than on the mainframe. AI/ML and analytics applications can then leverage both current and historical mainframe data to derive better business insights. Model9 Gravity is built as a product on top of the Model9 Cloud Data Platform, a set of core functions common to all
Model9 products.
MODEL9 SHIELD
Protect your mainframe data from cyber threats on a cloud-based platform.
Model9 Shield protects your mainframe data from cyber attacks such as ransomware by transferring the data to immutable cloud-based storage, creating multiple copies of the data, and ensuring all copies are protected. In addition, the data is protected by end-to-end compression and encryption. When sent to the cloud, the data can also be air-gapped — meaning an additional copy is isolated from the network and sheltered from malicious attacks. These measures enable swift recovery from attacks and allow you to remain compliant with regulatory requirements for data retention.
The Model9 cloud-based technology enables data orchestration with any object storage using standard protocols without legacy hardware or software required. Data is accessed and transformed with no target storage lock-in, allowing you to have full control of your data.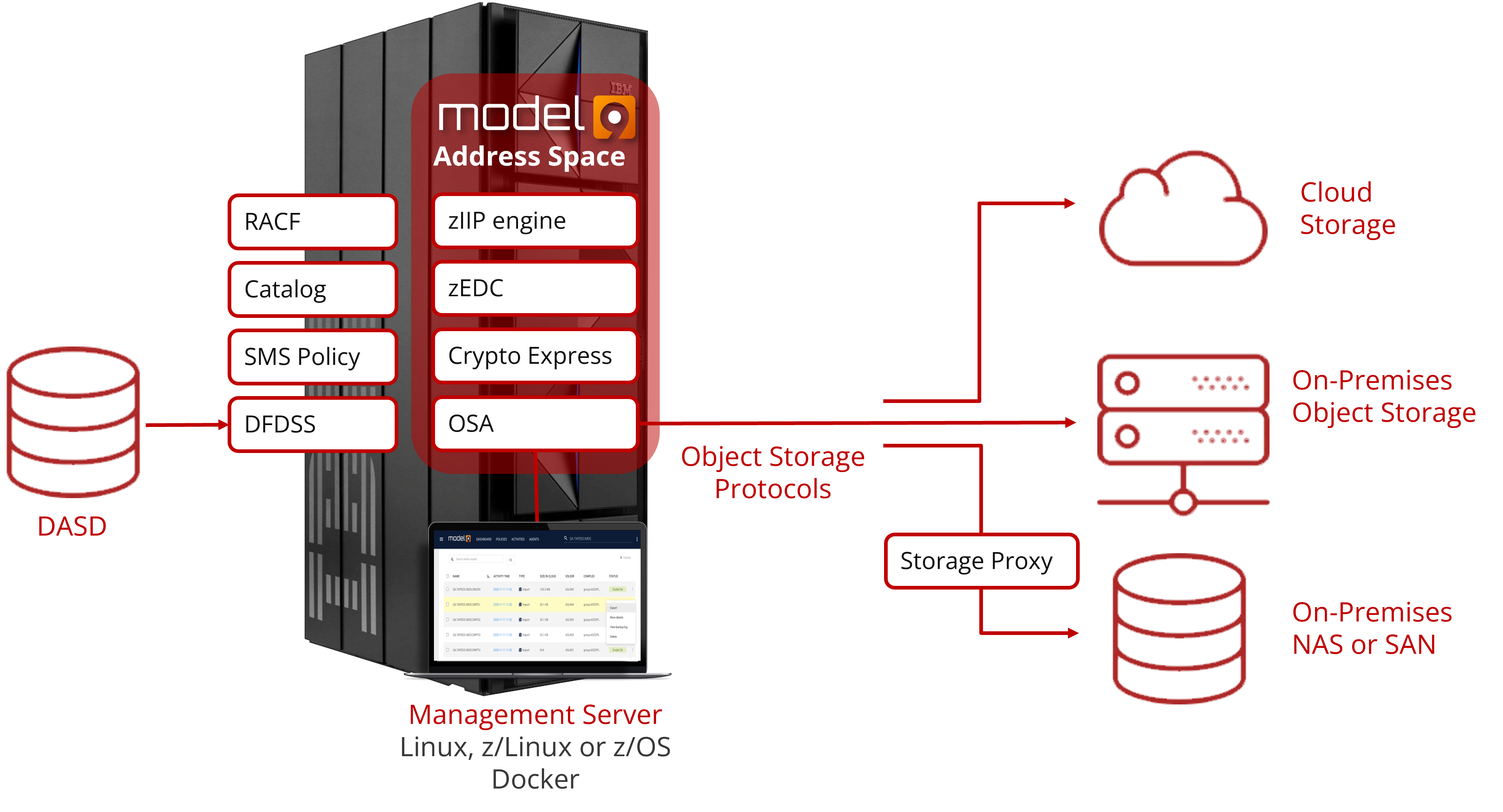 Model9's products are made of two components – a zIIP-eligible agent running on z/OS and a management server running in a Docker container on Linux, Linux on Z, or zCX. The agent reads and writes mainframe data from DASD or tape directly to cloud storage over TCP/IP. A data set import policy provides automatic discovery of VTL data sets and facilitates transferring large amounts of data to the cloud. Model9 uses the ELT approach (extract, load, transform), meaning the data undergoes transformation only after its transfer to the cloud. That process is faster and less expensive than traditional ETL (extract, transform, load), where any access to data requires transformation on the mainframe.
Improve Your Mainframe Administrator Experience
The user interface includes an intuitive search functionality to quickly find and recover mainframe information. The management server is fully integrated with your mainframe security software suite (like RACF, CA-TSS, or CA-ACF2), so that users can access the UI with their existing mainframe credentials and all actions are controlled through reliable mainframe authorization standards.
Your junior mainframe storage administrators will build their skill faster and efficiently using the intuitive user interface for mainframe data management. TSO commands provide the ability to use the z/OS console and batch jobs to control, query and access backups. Your team can decide which interface provides them with the best experience.
Administrators and management benefit from real-time activity, capacity and error reporting to improve resource management and speed-up problem resolution.
OPTIMIZE MAINFRAME COSTS
Model9 provides an alternative to existing physical and virtual tape hardware and software without changing daily operations and data management processes.
Reduce your costs
shifting most of your backup-processing and Storagemanagement to zIIPs
Replacing costly physical and virtual tape hardware with any object storage, including on- or off-prem
Consolidating legacy backup, tape management, encryption and reporting software products into a single modern solution
REPLACE BACKUP SOFTWARE
Merge legacy backup (such as IBM DFHSM, CA-Disk, FDR/ABR), tape management (IBM RMM, CA-1, CA-TLMS, BMC Control-M/Tape), encryption, and reporting software products into a single future-proof solution.
USE CLOUD STORAGE FOR BACKUPS AND ARCHIVES
Store data backups and archives and load direct data backups to and from cloud object storage. Model9 encrypts all data before it is transferred to cloud providers such as IBM Cloud Object Storage, Hitachi Content Platform, Microsoft Azure, Amazon S3 and Glacier, or Google Cloud Storage.
z/OS UNIX BACKUP
Model9 supports z/OS UNIX file-level incremental backup and recovery, thus saving backup space and shortening backup periods. It backs up only changed files in the z/OS UNIX file system. When restoring, only the specific UNIX file is restored directly to the UNIX file system without having to load the entire HFS/ZFS data set first.
MAXIMUM SECURITY AGAINST RANSOMWARE ATTACKS
For quick business resumption in the event of a ransomware attack, Model9 can back up to WORM-certified (tamper-proof) storage so that data cannot be corrupted or tampered with. Data is encrypted end-to-end, so it cannot be read without permission.
The bare-metal recovery feature ensures that you can restore from the backup copy even if your live system has been compromised.
DEFINE ADDITIONAL RECOVERY POINTS AND IMPROVE RECOVERY POINTS (RPO)
If you use Snapshot technology (for example, FlashCopy) to create a consistent recovery point, Model9 lets you reuse Snapshot target space for additional Snapshots by creating a backup copy of the Snapshot. This way, you can take as many Snapshots as needed with the same "limited" Snapshot target space. The backup copy can be used to restore a single record, an entire disk, or the entire Snapshot copy.
STANDALONE DISASTER-RECOVERY
The backup server and storage can be located remotely and serve as an internal vault backup for disaster recovery. In bare-metal recovery scenarios, a standalone recovery program is IPLed over the network directly from the server. The standalone recovery program is used to recover disks and data sets without the need for a live Z/OS system.