REAL TAPE OPTION FOR DELL DLM
A virtual tape library (VTL) consists of fully virtualized z/OS tape drives, which are secured by a disk-based storage unit. Dell Disk Library for mainframe (DLm) provides a virtual tape solution. Thus far, companies have been limited to virtual tapes when using DLm. mainstorconcept's z/RTD module allows for a solution that copies this virtual data onto physical LTO tapes using NetWorker/DPS. Not only does this make your mainframe data quickly available through DLm but also owing to z/RTD you obtain a physical copy of your data providing a last line of defense for your business.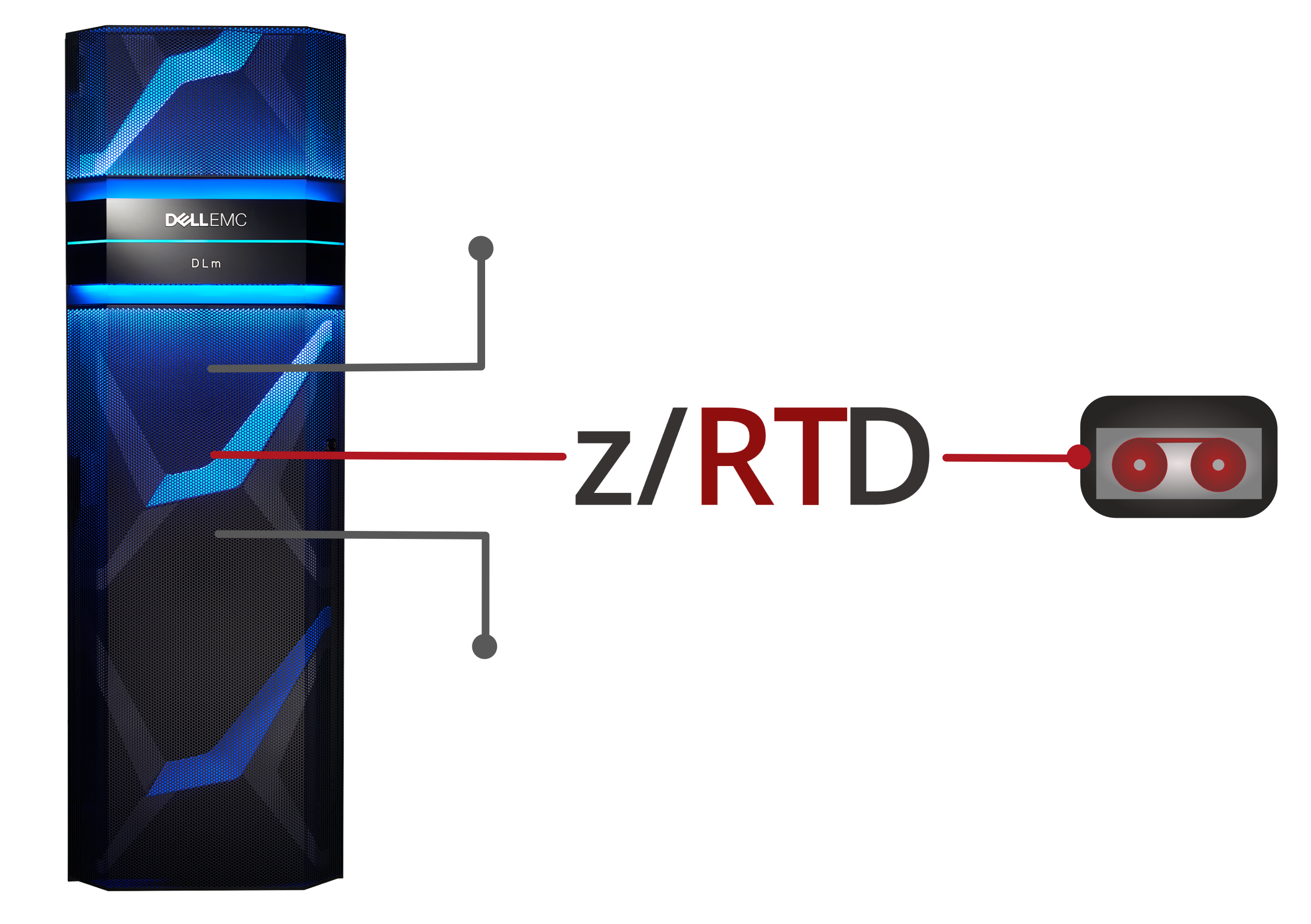 Apart from delivering a last line of defense, z/RTD offers companies an increase in flexibility, security, and velocity for their management of real tapes.
All relevant information is recorded by z/RTD in a log file to be displayed on the mainframe as soon as the jobs have been completed. As a result, each individual job can be reviewed and based on the result actions can be taken.
z/RTD possesses the "Write once read many " feature to ensure that the copies are safe from manipulation. This kind of tape limits the data access to read-only mode. Another advantage of z/RTD is its variable retention time. The retention times can be adjusted individually – customizable on a job basis to fit your business needs. z/RTD is equipped with several more features, which are ready to use out-of-the-box.
z/RTD operates with the most recent DLm systems. Let us start with an example customer who runs a z/15 mainframe with DELL's DLm8500 and DataDomain as storage backend. Our example customer desires an additional backup on physical tape.
The Dell NetWorker facilitates the connection between the DLm8500 and the real tape library. In general, the Dell Networker operates on a separate server.
Prior to using z/RTD, the z/RTD module, as well as the Networker Client have to be installed on all available Virtual Tape Engines (VTEs) of the DLm.
The communication between z/RTD on the DLm and the NetWorker server takes place through the internal DLm 10GbE-switches. The NetWorker server is connected to the customer's network via Ethernet and to the real tape library over Fibre Channel (FC).
After executing the z/RTD jobs on the mainframe, z/RTD secures the tape copies using the VTEs and transmits the data via network to the NetWorker server. The NetWorker server catalogs the backed up copies in its internal database. Subsequently, the data is written in order to protect it in the real tape library on LTO tapes using the FC.
A restore can be realized for each individual tape. It can be started either with the help of the Networker server (GUI/WebGUI) or using the DLm CLI.
Parallel z/RTD Jobs
Tapes can be duplicated much faster through parallelization. Numerous z/RTD jobs allow for both simultaneous reading of separate DLm tape libraries and writing to the backup.
LTO WORM Support
z/RTD supports as a backup option not only standard tapes but also WORM tapes to secure critical tape data. This allows long-term storage of any data, protecting it physically from modification.
Tape Duplication
Every tape can be secured using the same VOLSER providing multiple replicas of the same tape. The tapes can be written into different Pools. This feature is triggered by a separate job on the mainframe.
Tape Retention
z/RTD offers for each backup flexible tape retention. The tape retention can be customized for each job individually based on your business requirements. For example, the tape retention can be set for a period of 53 years.
Logging
Tapes facilitate backups of your regular data. Not only is regular data important for businesses but also metadata in the form of logs is relevant. These logs are written once a job is completed and made available as tapes.
Pool Assignment
z/RTD jobs can be individually assigned to Backup Pools. The tapes can be written to a maximum of two pools per job. The backup destination can be changed dynamically, which does not affect the completed backups.